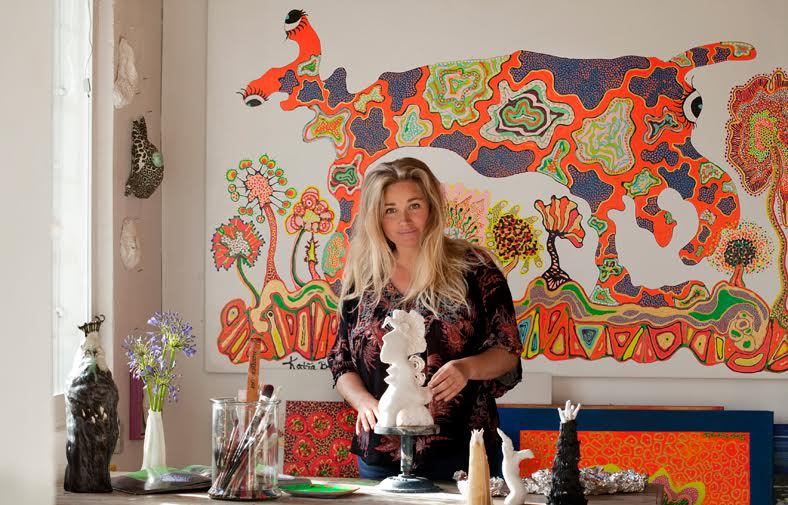 Velkommen!
Mine værker er skabt udfra min livsglæde. Jeg elsker naturen og farver. Jeg er altid på udkig efter mønstre, smukke eller sjove former og farvekombinationer. Inspirationen kommer mange forskellige steder fra, f.eks. er jeg i øjeblikket optaget af Rob Kesslers enestående bøger om blomsters seksualitet. I en del år har jeg været optaget af havet og det sniger sig stadigvæk ind alle vegne. En anden vigtig inspirationskilde er, at undersøge nye materialer og teknikker. Det giver mig nye muligheder at udtrykke mig på. Et værk opstår udfra et indre billede af en farve eller form. Når jeg er i processen forsvinder tid og sted og jeg lader mig guide af min intuition og glæde. Et værk kan tage alt fra et par dage til flere uger. Rigtig god fornøjelse med at kigge rundt i mit univers. Hvis du ser et maleri du synes godt om, men har lyst at størrelsen er anderledes, så laver jeg gerne malerier udfra personlige ønsker.
De bedste hilsner

 Back to nature
There are signs of joy and creative juices flowing all over Katja Bjergby's copenhagen studio. Vivid colors exploding into organic shapes. A tale between paninting and sculpture. In one cornor there is a wall filled with prints showing  weird and wonderful structures of nature. Is it human shapes or plants? It stirre the inmagination. On the floor there is af sculpture so organic that you might want to keep it lockd up in a closet during the night. On the wall there is a big colorful painting showing a senery  that maks you dream of beautiful endless summerdays.
Everywhere you look you sense the love of color and nature.
"All my work evolves from a sence of thrill and playfullnes combined with a coriosity and urge try unknown territories"
She describes her creative process as a constant flow between chance and control, she applies tecniques learned from one dicipline such as acrylics to an unconventional material as ceramics.
Katjas intuitive and experimenting approach has produced af varied body of work that counts painting, sculpture, watercolor and drawing.
Her interest in sculpture and painting devoleped during har education years at the teathers college of art and craft in the beautiful countryside in Fyn, Denmark.
The art work shows in different ways the many stages that that goes into their creation.
The paintings for instanse are painted in 5-6 layers of acrylic paint with different mediums to give af rich flow and energi to the colores. in the end they are fixed with a unique varnish that gives a lush sense eof wet surface to the painting. It to increase the debth and vibance of the colors.
In other work like the sculptures she will hand-work the peicies in paper porcelain and then taking the time to slowly dry. After burning the piece to high degrees in a creamic oven she paints them with acrylics to bring extraordinary beauty and life to the pieces.
For Katja staying open and following the heart is a key coponent in a joyfull and fulfilling artistik life. She Says  "I love making art, it stirres my soul and shows me endless ways to new possibilities"

CV
Uddannet kunstlærer fra Seminariet for Kunst og Håndværk, Kerteminde.  

Speciale 1. keramik, speciale 2. skulptur, speciale 3. billedkunst 

undervisere bl.a Mette Jørgensen, Peter Tybjerg, Aage Birck 

Teknisk assistent ved det keramiske forskningscenter Guldagergaard, Skælskør

Kunstlærer ved Frederiksberg Daghøjskole, Frederiksberg

Bygning af kulisser til filmen "Mandalay" af Lars von Trier, Trollhättan

Etableret eget værksted og  galleri på Wilders Plads 11b, Christianshavn, København.

Deltaget i flere masterclass workshops ved det keramiske forskningscenter Guldagergaard.